Thinking about competitive intelligence I have a moment's reflection. The question here is: How do businesses deal with competitors, and how they avoid each other? I found a search engine. In this context, isn't it against benchmarks of best practice in business management that
Google Adsense
s
hould not
be seen where
Google is invisible
. A competitor of Google, a less popular search engine, shows results from all other sources (READ AGAIN: it is minus Google) and has Google ads, the search engine is called
Minus Google

And, about this new born minus-google, a news headlines says:
Finnish blogger amputates
Google from Google: A road map for regulators of the future, By Cade Metz in San Francisco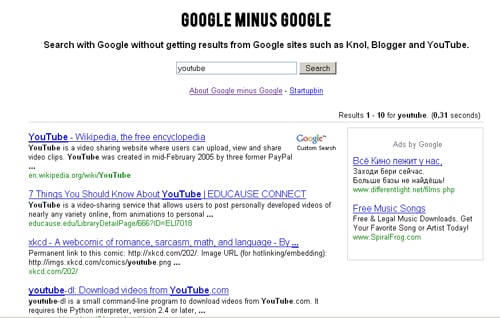 And, another question is:
Why Does Google Allow Ads for AdSense Ready Websites?

Search for something like "work from home", "Internet jobs" or "make money online" on Google and you'll see a flood of ads promising easy money through the AdSense program.
If you have ever tried AdSense on a site, you probably know how tough it is to make that first dollar but these ads, which are surprisingly served on the Google network itself, make things look so simple. Just order an "AdSense kit" for a few dollars and the money will start rolling in. continue reading: Digital Inspiration.
See also:
The Google-Yahoo! agreement and the future of internet advertising
hearing before the Subcommittee on Antitrust, Competition Policy, and Consumer Rights of the Committee on the Judiciary, United States Senate, One Hundred Tenth Congress, second session, July 15, 2008.
Any clue, or at least a response to this reflection?